Lab Diagnostic Testing: Adenovirus

The laboratory diagnosis of ocular adenovirus infection is a function of the onset of clinical symptoms. The earlier the conjunctival samples are collected after clinical onset, the higher likelihood of a positive result. The adenoviral load of viable virus and antigen decreases over time. Four tests can be used for laboratory diagnosis: PCR , cell culture, shell vial , and EIA (Adenoclone™). In our laboratory we currently only offer PCR for ADV.
Specimen Collection
PCR
Cell Culture
Shell Vial Culture
EIA (Adenoclone™)
Specimen Collection
Specimens are directly collected by vigorously swiping the exposed conjunctiva with a plastic soft-tipped applicator. Cornea samples are not necessary. Topical anesthetic can be applied to the conjunctiva but this is optional. Collected samples are placed in 2.0 ml of viral transport medium. We have had great success with Bartels ChlamTrans™ chlamydial transport medium and recommend its use. Viral culturettes can also be used for transportation to the laboratory and these can be transferred to the viral medium. All laboratory testing can be processed from the 2.0 ml of chlamydial transport medium. Adenovirus is not a fastidious virus. It will remain viable under many conditions and collected samples should be easily transported through mail carriers.
Viral Transport medium
(Click on image to enlarge)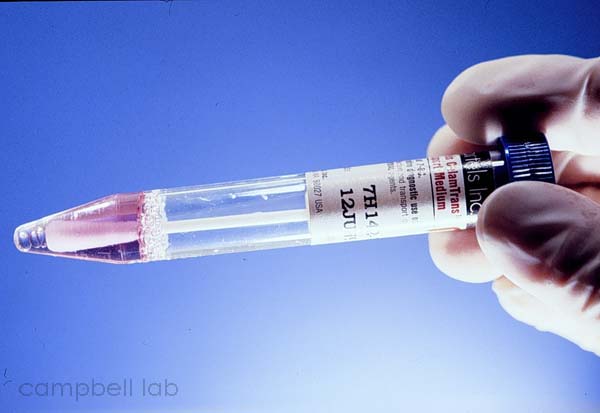 PCR
Polymerase Chain Reaction (PCR) is a molecular test that amplifies specific adenoviral DNA sequences from clinical samples and then identifies the amplified products with gel techniques. PCR is a highly sensitive and specific test that can detect adenoviral DNA from clinical samples. Results can now be obtained within one to three days. PCR testing can be quite expensive to the self-pay patient. Make sure the patient has insurance coverage. Many molecular laboratories offer adenoviral PCR testing.
Cell culture
The "gold" standard for adenovirus laboratory testing is cell culture. Collected samples are layered on a monolayer of cells in test tubes. If present, Adenovirus will present as cytopathic effect of rounded cells. The cytopathic effect of Adenovirus is confirmed for the presence of antigen by EIA (Adenoclone™). The best cell-line for testing Adenovirus is A549. This is a human carcinoma continuous cell-line. When samples are collected within one to three days of clinical onset, cell culture generally is positive within four to seven days. Samples collected after three days may take one to three weeks to produce cytopathic effect. Cell culture will confirm an adenovirus diagnosis but it may not provide timely results for immediate patient care. All virology laboratories can offer cell culture isolation for Adenovirus.
Shell Vial Culture
Shell vial is another cell culture test but the results are ready in three days. Vials of A549 cells are inoculated with collected samples and centrifuged. The vials are then incubated and stained at day three with immunofluorescent antibodies specific to Adenovirus. The cells infected with Adenovirus will light up with examination under a fluorescent microscope. We found that shell vial highly correlates with standard cell culture especially when samples are collected within seven days of clinical onset. Shell vial testing is processed by many virology laboratories, especially those involved with respiratory virus.
Positive ADV shell vial culture
(Click on image to enlarge)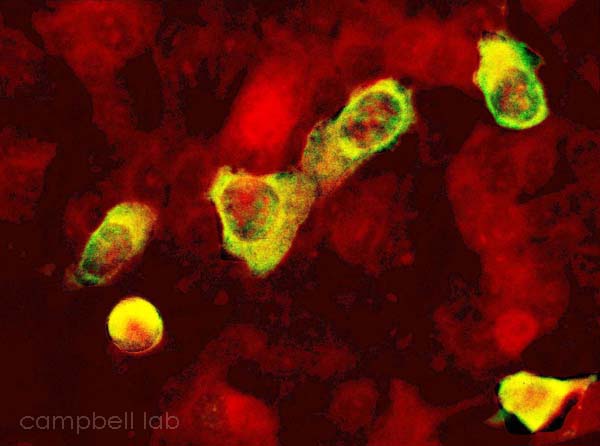 EIA (Adenoclone™)
Adenoclone™ is an enzyme immunoassay that can detect adenoviral antigen from collected ocular specimens. Positive results can be obtained within 75 minutes. Unfortunately, Adenoclone™ is only 40 to 50 percent sensitive in detecting adenoviral antigen from clinical specimens. A high load of antigen is necessary for a positive test and this correlates with collection within one to three days of clinical onset. The power of this test is that it does provide rapid results when tests are positive but negative tests need to be confirmed with cell culture or shell vial. Adenoclone™ is not widely offered by diagnostic laboratories.
Positive Adenoclone™