Sending Specimens After Hours
We accept specimens MONDAY-FRIDAY from 8:00am to 3:30pm.
If the delivery is not going to make it by 3:30 pm MONDAY-FRIDAY, hold the specimen for delivery the following week day, OR if necessary send the specimen to the UPMC Presbyterian Hospital Emergency Room using the following protocol:
AFTER 3:30 PM, Mon-Fri & Weekends:
DIRECTIONS FOR OPHTHALMIC CULTURES TO BE DELIVERED
To UPMC Presbyterian Hospital E.R.
Inform the on-call Ophthalmology Resident by pager (412-647-PAGE; pager #7359) that a specimen for Ophthalmic Microbiology will be delivered to UPMC Presbyterian Emergency Room.
Send specimen by courier to: UPMC Presbyterian Hospital Emergency Room, 200 Lothrop St, Pittsburgh, Pa 15213.
The courier needs to have the ER personnel page the on-call ophthalmology resident (412-647-PAGE; pager #7359) to pick up the specimen.
The on-call resident will place the specimens in ER refrigerator or incubator for laboratory personnel to pick up the following day.

Please call the lab with any questions 412-647-7211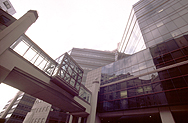 Photograph of Eye and Ear Institute and Biomedical Science Tower buildings and walkway.